Archive / Sales
The Archive
The John Myers photographic archive (1972 -1981) is deposited at the Library of Birmingham. The Library holds a collection of 3.5 million images and is recognised as being of national and international importance.
The archive contains 134 portraits mainly from the years 1973 -1975 and in the region of 160 photographs of televisions, sub stations, houses, shops and other aspects of the urban environment from 1974 – 1981.
The Library also holds a small archive relating to the first exhibition of Harold Edgerton's photographs in the UK that was held in the mid 1970's and which John Myers was instrumental in organising.
Middle England exhibition
The Middle England exhibition of seventy five original silver bromide prints is available (either in whole or part) for tour. The works are fully framed to conservation standards.
Any enquiries regarding the Middle England exhibition or the archive can be made to John Myers on +44 (0)7751 997 243 (or by e mail via the contact page) or to Peter James, Curator, Photography Collections, Library of Birmingham, Centenary Square, Broad Street, Birmingham B1 2ND
pete.james@birmingham.gov.uk Tel: 00 44 (0)121 303 6776
http://www.libraryofbirmingham.com/
Publications
John Myers: Middle England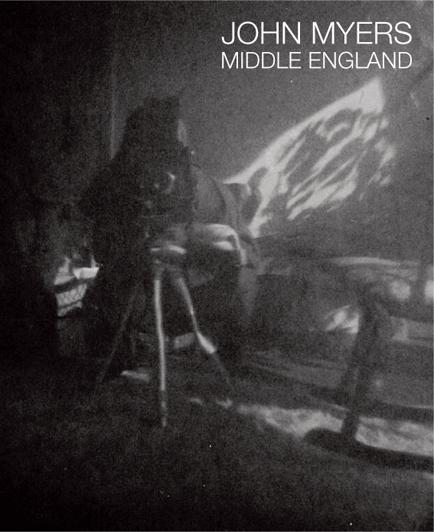 This catalogue accompanies the Middle England, Ikon's 2012 exhibition.
Essays by Paul Lewis, Dr. Eugenie Shinkle and Ian Jeffrey
Paperback, black and white illustrations, 128 pages.
Dimensions: 24 x 20 x 1 cm

Publisher: Ikon
ISBN: 9781904854721
Available from: ikon-gallery.org
Video
http://www.primeobjective.co.uk/
1 December, 2011. An interview with John Myers, discussing his photography practice from the 1970's and the current Middle England exhibition at the Ikon gallery, Birmingham
Sales
All the images on this web site - with the exception of Mrs. Tate, 1973 and Heath Lane, (n.d.) are available for sale on an individual print basis. The Ten Televisions, 1973 are only available as a set of ten prints.
Prices are available upon request